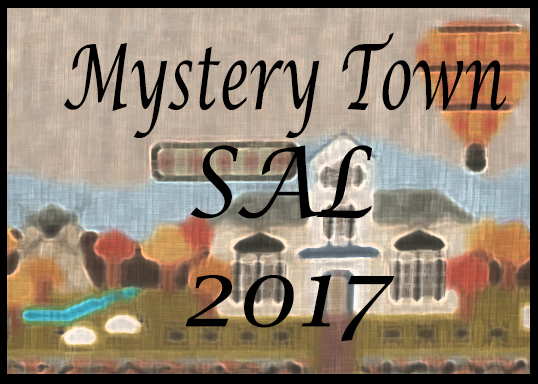 **IT IS VERY IMPORTANT THAT YOU READ ALL OF THIS INFORMATION**
SAL HAS FINISHED.  DUE TO THE NATURE OF THE DESIGN IT IS ONLY AVAILABLE IN THE FACEBOOK GROUP!
(PICTURE IS NOT SAL. IT IS 'Early Autumn Lane')
Stitch count will be approximately:  100 x 200
All parts of the pattern will be in PDF format and will be posted in the facebook group. You do not need to be on facebook to join this SAL but you do need to email me and let me know you want to be put on the email list instead. You will need the program adobe reader to read them. It's free online.
Cloud Shapes is the new fabric for this SAL. It will come in 16 count Aida and 32 ct. Belfast.  Fabric will be cut to 13 x 18
Threads used will be a mix of DMC and Ship's Manor threads. (DMC NOT INCLUDED WITH THREAD PACK)
Please join us in the facebook group after payment (if your name is different, on facebook, from your paypal name please let me know).  Mystery Town Facebook Group