The Fantasy Cottage SAL. This SAL will consist of 12 patterns (including the frame it's 13) and will be released monthly beginning on January 15th (the frame will be released on Jan 1st.)
Stitch Count: 194h x 148w
The fabric used for the model is a new color called "Aurora".
You will need a mix of Ship's Manor threads and DMC to complete this. You may choose to use all DMC. A DMC list will be sent to you on Jan 1st.
Ship's Manor to DMC (not exact matches)
Twisted Oak – 3031 Elevenses – 433 Inchworm – 989 Patina – 319
Blue Spruce – 3816 Sea Siren – 992 Rainforest – 911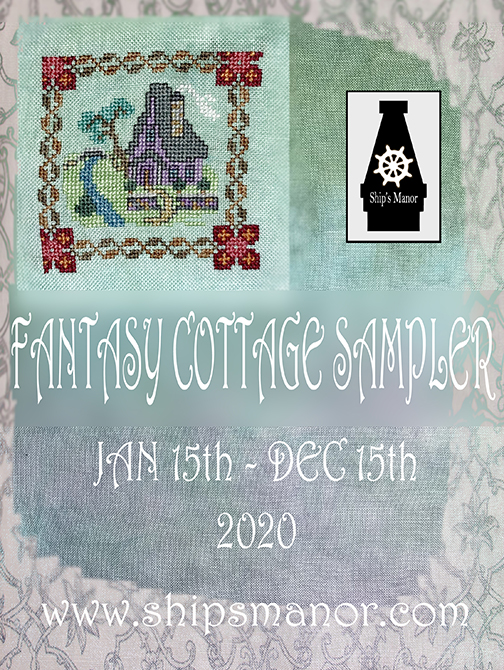 Fantasy Cottage SAL PDF
Delivered via email in 13 parts beginning Jan 1st with the border. All other parts will be delivered on the 15th of each month.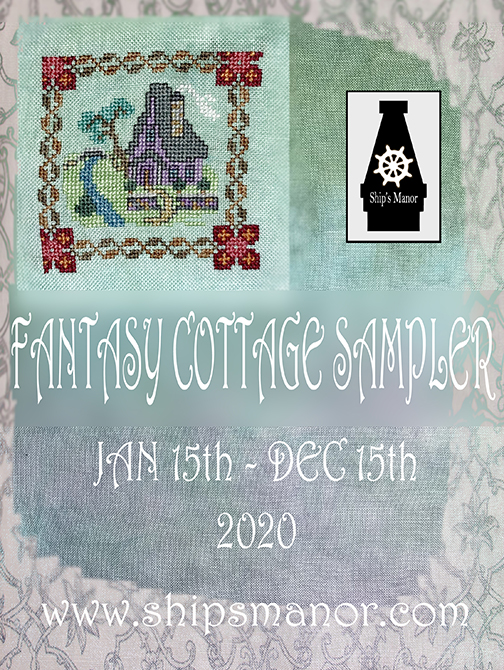 Fantasy Cottage Thread Pack
Thread pack includes: 2 Twisted Oak, 2 Elevenses and one of each of the following: Inch Worm, Patina, Blue Spruce, Sea Siren and Rainforest.