Ship's Manor was born in 2010. It's been a great journey that has grown and changed over time. I have been in various magazines, books and the 2015 Keepsake Calendar by Cross Stitch & Needlework. I have designs with HAED (Heaven and Earth Designs) and have done a handful exclusively for DMC. My Mother taught me to stitch when I was young and I kept going.
Magazines/books you will find Ship's Manor designs (sometimes just by my name Erik Shipley)
The Gift of Stitching (no longer in print)
Create & Decorate (no longer in print)
Craft Ideas
Cross Stitch & Needlework Magazine
Punch Needle & Primitive Stitcher – subscriptions are available  HERE 
A Cross Stitch Christmas (yearly book put out by craftways)
Just Cross Stitch
I use to have an old fiction story on here that many people enjoyed. It was the made up version of Ship's Manors beginnings. I think it still needs to be here. So…without further ado…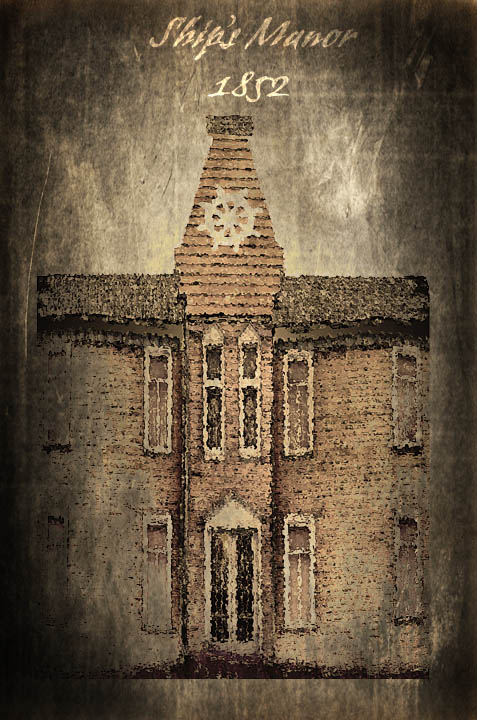 The Un-True Story of Ship's Manor
The Ship family was well known in New York, London, Paris and Utah. They were very much a part of high society due to their ship making skills. In the mid 1800's the ship making stopped but their legend lived on. High on a turret of Ship's Manor was a window shaped like a captains wheel. At one time it signified skillfull ship makers. Then, in 1856, the significance changed to adventure, dreams and story telling.
The Ship family was a generous lot and were loved by everyone; not once did they refuse to share their candles or a cup of sugar.One dark night Mrs. Ship did the unthinkable, she refused to share her last cup of wassail. She was cold and just started reading a new book. She said "A book is not a book without a nice cup of wassail". So, Mr. Ship was wassail-less and shivered for hours just to spite Mrs. Ship. After two hours of pressing his cold feet on Mrs. Ship, Mr. Ship decided his time would be better spent in a quiet basement playing with needle and thread.
All night he worked, only interrupted once or twice by wassail filled laughter from above. His fingers bled and his eyes burned. When the sun rose he stopped. Ship's Manors first pattern was finished and it was beautiful. Mr. Ship cried with glee "My first pattern" he declared and held it up, a little too high because he spent the next hour brushing cobwebs from it. Now it was time to show his wife.
With needlework in hand he rushed up the stairs, turned a corner and rushed up another flight of stairs. Mr. Ship headed straight for the bedroom, where he knew Mrs. Ship would be waiting. He knew in his heart that she would be delighted with him and his first beautiful pattern. Down the hall he sprinted, yearning for the smile he knew he would be greeted with. When he reached the bedroom…the bed was empty. Hadn't he left Mrs. Ship here, last night to her wassail and book reading? It was the bedroom and even if it had been the den she would've surely came to bed by now. Alas, the bed really was empty. Mr. Ship's shoulders slumped, the pattern fell limp in his hand.
Wait! His eyes lit up. "She must be in the dining room eating breakfast". Mr. Ship ran faster this time down the hall, the thought of not only sharing his pattern with his wife but the maid too had excited him. Down one flight of steps he went, turned a corner and went down another flight right into the dining room. Then he stopped, looked at the empty table and sighed. Miss. Lu, the maid, opened the kitchen door and jumped out of shock. Mr. Ship had wild hair and a crazed look in his eyes. "Where is the Mrs.?" he asked. Miss Lu didn't speak but her eyes jerked to the den. Mr. Ship nodded.
Again he raised his shoulders, eyes and pattern. His energy, perhaps a little less than before, had returned. Mrs. Ship must be reading the paper, he thought. The bedroom wasn't the perfect time to show her, she would've been half asleep, if she were eating breakfast she would be too distracted by the sausage to fully appreciate his needlework. Yes, the Den would be the perfect place. Mr. Ship stopped outside the den door, he took a deep breath and then flung it open. "Surprise!" he yelled. Indeed, it was a surprise by all. Mrs. Ship had fallen asleep while reading, half cup of wassail in hand when she was startled by her husband. She sat straight up on the sofa, the book flew across the room into the fire and the wassail flew towards Mr. Ship…and his pattern. Mrs. Ship, eyes wide, drool hanging from her chin, looked at her husband. Her husband looked back, shoulders slumped, wild hair, eyes heavy…wassail dripping needlework in hand. The room was silent until Mrs. Ship noticed her book was missing "My book!" she yelled and then looked at her husband. He gestured to the fire, turned around and walked through the door.
Mr. Ship remained fond of his first pattern, and if anyone ever asked (which they usually didn't) he would just say it was the new "antique look". Fortunately Mr. Ship continued making patterns and kept them in a locked box away from wassail flinging mishaps. Now, 150 years later his patterns will be enjoyed by all and I will be the one to share them.
The name changed over time, each generation adding an extra letter just to further themselves from the craziness. I am Erik Shipley, Mr. Ship was my great great great Grandfather. His patterns, and his journal, passed from generation to generation and recently landed in my lap. I refuse to hide from the truth though and even thought about shortening my name by one letter until it returns again to it's true form SHIP. It was a fleeting thought though since I didn't want my last name mispronounced…Shippel, Shiplay, Wassail. So, here I sit, day after day stitching up the dreams of my Grandfather, avoiding spiced orange drinks and laughing.