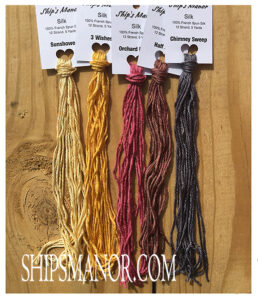 I have released 5 new silks.  I think Leslie (www.undertheseafabrics.com) should be happy!  I will be using them in designs once I get a greater color range.
The new colors are:
Sunshower (comparable to the cotton color Between the Shadows). It's a really light yellow color that stitches up with a nice aged look.
Chimney Sweep is a great sooty grey. It's comparable cotton twin is Bleak House.
3 Wishes does not have a cotton match but it is a nice medium gold.
Half Acre is a medium brown with some nice reddish brown highlights.
Orchard House is a nod to Little Women (obviously) and is comparable to the cotton Prim and Proper. Although, Orchard House is a little darker and pinker.