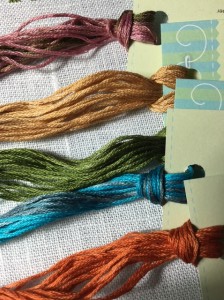 Ship's Manor is adding new things this year to mix things up.
#1 is a line of threads. I love designing and using over-dyed threads and it was only natural for me to make thread colors, to use in designs, that I couldn't find elsewhere. Unique colors and consistency are my number one goal. In the next month expect to see a limited kit with 6 Ship's Manor colors at an AMAZING price! This kit will only be available through your LNS and, because of this low price, will be distributed through me. Please let your needlework shop know about this.
#2 In years past I've tried to stick to a schedule and failed miserably. My muse is stubborn, moody and likes to whine all the time. He/she doesn't want to design for Christmas in Summer or stitch pumpkins in Spring  when it should be flowers. Yes, I've failed miserably at putting out Holiday designs because I didn't have the heart for it. So, this year I will not force any design. You would know when I haven't put my heart and soul into a design and so would I.
#3 It felt like it was time to close the doors on Ship's Manor due to low sales, piracy and lack of enthusiasm. Let's be honest, without sales its impossible to get designs out there. So, my choice was to either mix things up (like dyeing and giving my muse some space), move everything to online sales or close shop. I think #1 says what I chose. I could not give up on the stitchers, the shops and myself. I love the emails, pictures and enthusiasm you all have for this craft. It deserves to thrive. I will not give up until I am absolutely forced to do so.
Let's make 2016 a year we will never forget. Let's rediscover or continue with our love of stitching. Try new things, make new friends, laugh and love more and remember to take things one stitch at a time.