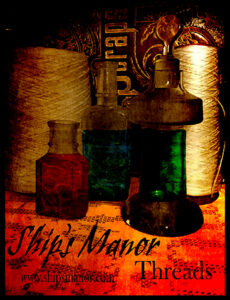 I think one of the number one questions I get is if I have a conversion chart so people can convert other threads to the ones I dye. The answer is: I don't because I have tried to make colors that weren't already made. I started dyeing for this reason…I wanted a bigger choice of colors to design with. This is also the reason why you will find some of my colors to be very "unique". I may have only dyed it to give texture to a leaf in a design. The bigger the color palette the bigger the possibilities. So, while I know it's a little disheartening to not be able to convert most of the colors here I hope you get some inspiration from them to create your own, unique masterpiece.
Click HERE for bundles and the Thread-of-the-Month club!
SAL bundles can be found here: http://www.shipsmanor.com/sal-bundles/
Click HERE for information on our "Lost" line of threads.
Please order as many as you need for your project, at the same time, to assure same dye lot.
Each skein is 6 strands and 5 yards. **COLORFAST**