**IT IS VERY IMPORTANT THAT YOU READ ALL OF THIS INFORMATION**
**PRE-ORDER** The SAL starts June 23rd and a new release will be every two weeks after.  This is a 16 part SAL.
Stitch count is :  188h x 133w
Fabric Size: (Remember to add how many inches to each side that you will want for framing/finishing).
14/28 count: 13.5 x 9.5
16/32 count: 11.75 x 8.32
18/36 count: 10.5 x 7.4
20/40 count: 9.4 x 6.65
ATTENTION:  The fabric and threads are hand-dyed to order so it can take up to a couple of weeks or more to ship. It usually doesn't take that long but please be patient.
All parts of the pattern will be in PDF format and will be posted in the facebook group. You do not need to be on facebook to join this SAL but you do need to email me and let me know you want to be put on the email list instead. You will need the program adobe reader to read them. It's free online.
There are two fabrics to choose from made for this SAL (of course you may choose your own.) The first is "Ancient Bark" (which is a very limited color and only available to those who purchase the SAL. This is "Limited" because I cannot get the dye I use to make it anymore. Unfortunately there may not be enough for everyone who joins this SAL to purchase it. This will be available in Belfast 32ct and Aida 16ct. only) The second choice is "Silvery Moon" and available in all counts/fabrics.  Ancient Bark may be purchased here and Silvery Moon is available under the fabrics tab.  Fabric will be cut to 15×18 for 16/32 count Ancient Bark. Silvery moon will also have a 15×18 option if you wish to stitch on 16/32 count.
Threads used will be Ship's Manor threads (10 Skeins). A DMC conversion will be provided but some of the threads are multiple colors so they will not match DMC.
I will ship fabric/thread outside of the U.S. The shipping charged is the same as U.S.
Please join us in the facebook group after payment (if your name is different, on facebook, from your paypal name please let me know).
SEASONS CHANGE FACEBOOK GROUP LINK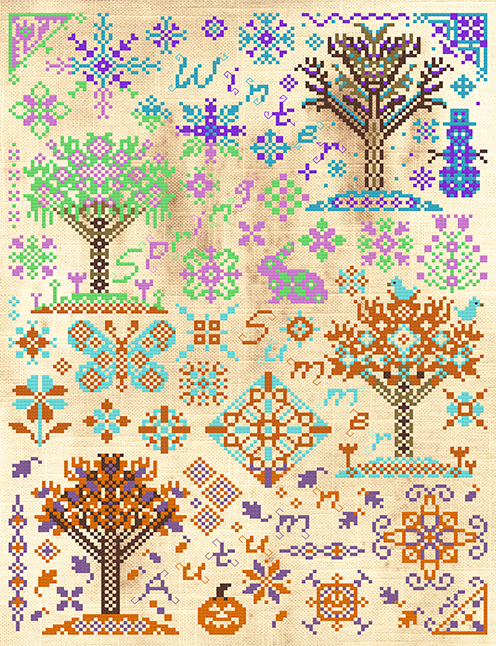 Seasons Change PDF Pattern
PDF Pattern. You can find the thread pack for this on the "cotton threads" tab.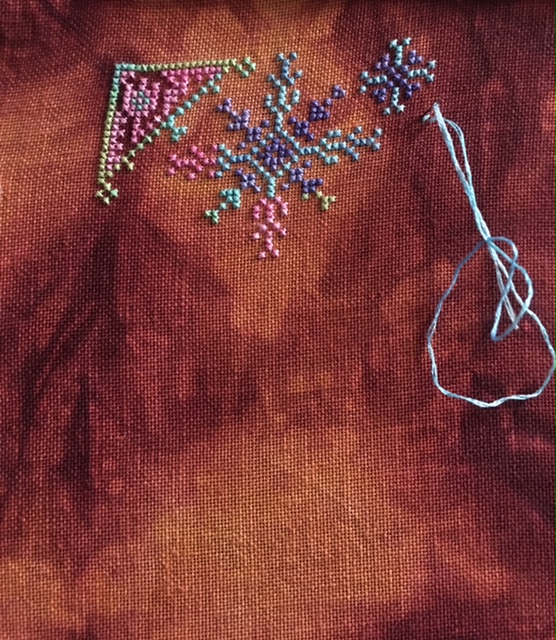 Seasons Change SAL (Pattern and Thread Pack)
PDF Pattern ($9) Thread (10 Skeins) ($18) 10% off regular price!